Top 5 Coaches
Tracy Jenkins
Despite all the struggles that a typical freshman basketball coach may come into contact with while coaching a completely new team, freshman girls basketball head coach Tracy Jenkins was able to surpass all odds when the season began. Although most of these girls had never played together before this season started, Jenkins turned them into an unstoppable force by the end of the season. This group of freshman girls ended with a phenomenal overall record of 15-5; however, they were able to go 12-0 in conference play and prevailed to be the OK White Conference Champions. Alongside this accomplishment, Coach Jenkins was able to lead his team to be the Cornerstone Holiday Classic Champions as well where they defeated the Grand Rapids Christian Eagles and the Forest Hills Eastern Hawks to win it all. Yet, the team's reign of dominance didn't stop there, as they went on to have five games where they held their opponents to under 20 points thanks to their incredible press that Coach Jenkins implemented, and the girls perfected it. 
"This season was so special because our group did such a great job of learning and implementing our system," Jenkins said. "Their basketball IQ allowed them to excel at being prepared, and we were so successful because everyone knew their role [offensively and defensively] which gave us major advantages on the boards, limiting our opponents any scoring."
Brad Anderson
Head wrestling coach Brad Anderson fully embodies what it means to not only be a coach, but also a role model for his current, former, and future wrestlers. For the last several years, Anderson has put his heart and soul into the Ranger Wrestling Program, and this past season was one to remember. He led the team through a very solid season that concluded with a record of 19-9 against some of the toughest schools in the state of Michigan. Not only that, but his team had over 15 dual victories, had a team member win the Kent County Invite, qualified three wrestlers for districts, placed third in their conference, and won the Forest Hills Eastern Tournament, all in the span of one season. Anderson and his team's success does not stop there: two years ago, the Ranger Wrestling Program added a girls team to it, and this year the Ranger girls wrestling team took home first place in the entire state of Michigan, against 120 different teams. 
"This season was incredibly special because of the unique combination of wrestlers, coaches, and experiences," Anderson said. "From our girls team winning the state championship, to our guys' team really coming together, we showed the trajectory of our team and its unique togetherness and purpose. We had phenomenal leadership and outstanding underclassmen who I know will grow up into outstanding representatives of our program."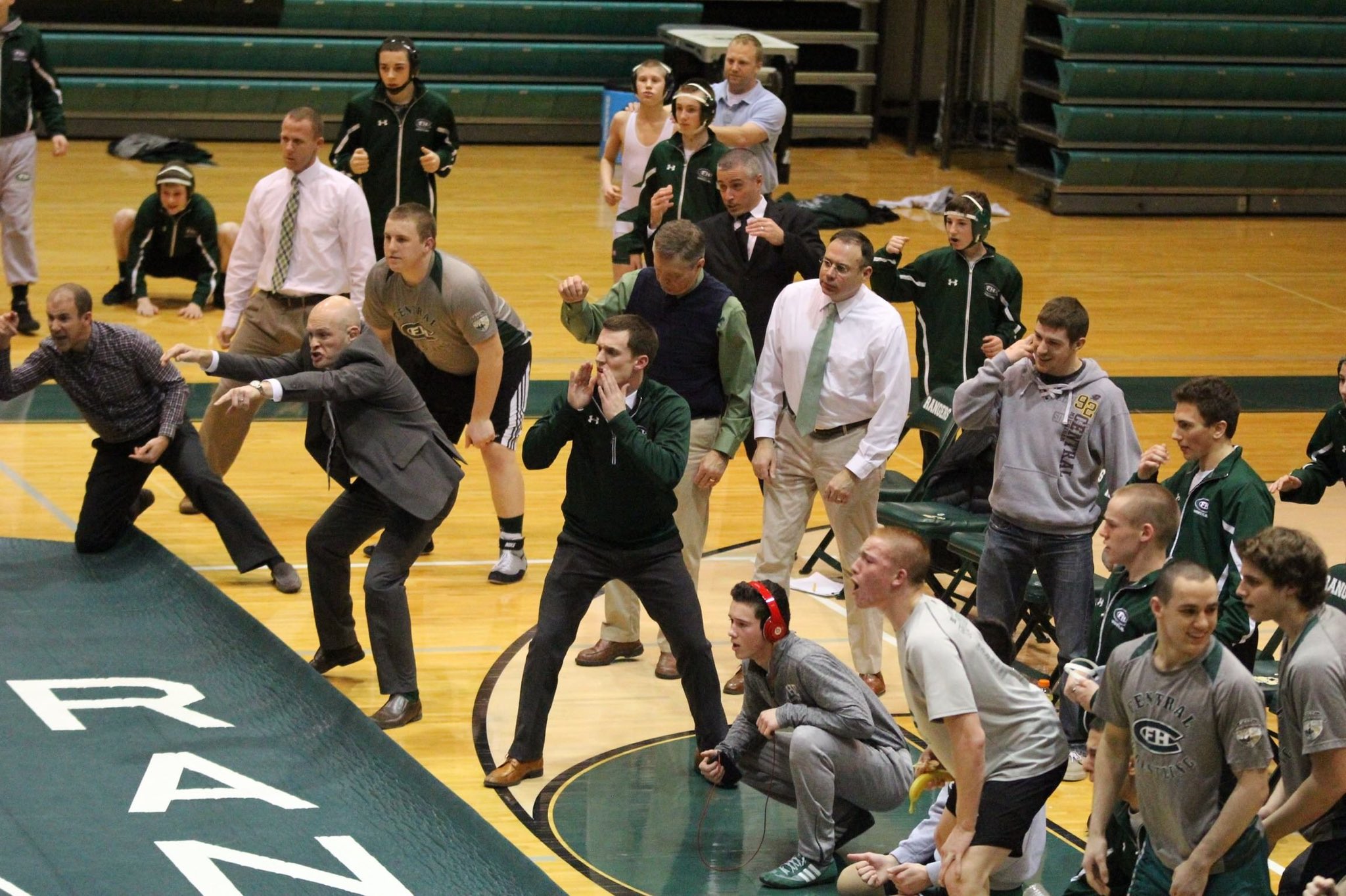 Kyle Carhart
Boys varsity basketball head coach Kyle Carhart took over the well-known Rangerball program two years ago with big shoes to fill. However, in these short two seasons as head coach, he has shown dominance in his incredible coaching abilities, his well-respected team, and the boys' many accomplishments. Despite having lost a few key players the year before, Coach Carhart helped to lead his team in their very successful 2019/2020 season. This season held many dominant performances, championships, and individual accomplishments for Carhart and his team that will go down in the history books for the Rangerball program. The season started off with the boys securing a huge non-conference win against the East Kentwood Falcons, the first win over EK for FHC in 12 years. This was closely followed by the Rangers dominating in the Cornerstone Holiday Classic where they became the overall tournament champions in their division with wins over Allendale and Forest Hills Eastern. Carhart coached the boys through a tough OK White Conference, where they prevailed as champions after ending with a stellar record of 11-1. However for Carhart, one of his proudest moments of the season had to be his very own player, senior Jimmy Scholler, scoring the 1,000th point of his career. All of these milestones in one season prove Carhart to be a coach that gives 100% to the program he is in. 
"When you have great player-led leadership, teams can achieve their goals," Carhart said. "I believe this is why we were able to achieve many of our goals and was another reason why the team was enjoyable to work with and be around. They set great examples for our returning and talented juniors."
Jazzae Ford and Crystal Delgodo 
The varsity dance team has proven that they are a phenomenal program for as long as anyone can remember. The copious hours of hard work put into perfecting just a few routines show whenever they put on a performance. However, this year, the dance team took its success to a whole new level, and they were led by head coaches Jazzae Ford and Crystal Delgodo. Ford, Delgodo, and their team traveled to the Dance Team Union National Championship in Orlando, Florida to compete nationally for the second year in a row. Here they competed against over fifty schools from all around the country, but despite the intense circumstances, Ford, Delgodo, and their team showed amazing composure and pulled off multiple successes throughout the competition. This year, with Ford and Delgodo's stunning choreography to help them, the team placed in the top 15 in the three categories they enrolled in: hip-hop, jazz, and pom. The team was able to take 15th place with their jazz performance, 11th place with their pom routine, and were able to secure the program's second ninth-place finish with their hip hop routine. With this being just Ford and Delgodo's second season as head coaches, the FHC Dance Team has a bright future ahead of them.
Jordan George
A 17-3 record for the season, a conference championship, a victory in the Cornerstone Tournament; for first-year boys JV basketball coach Jordan George, this season exceeded all expectations. George, an FHC graduate, began his coaching career off with a huge win over the Forest Hills Eastern Hawks. The team then went on to dominate in the Cornerstone Tournament where they picked up two wins against the Allendale Falcons, and once again, the FHE Hawks; however, this time the Rangers won by 34 points. As George's season progressed, the team went on to dominate in conference play, and they only lost one game throughout the entire conference season to the Ottawa Hills Bengals. This game against the Bengals went into four overtimes and ended with the Rangers falling just short; however, the next time they took on the Bengals, the Rangers were able to pick up the victory. 
"The thing that I valued most with this team was how hard they played every day without me having to coach them in that area," George said. "Whenever anyone asked about my team, I always told them about how my guys just play so hard. I also really valued how they welcomed me in and were willing to embrace some new ideas and strategies this year."
Top 5 Coaches
Sorry, there was an error loading this poll.