Jerry Rice: The greatest wide receiver to ever play?
More stories from Justin Osterhouse
Jerry Rice is the best wide receiver to ever step foot on a football field. Compared to another great in Randy Moss, the comparison is not even remotely close. Here is why:
Jerry Rice was born in Starkville, Mississippi, on October 13, 1962.  Jerry Rice had no intention to ever participate in the sport of football. As a little boy, Jerry would always help out his dad, who was a bricklayer, which helped the young star to develop strong hands, which would carry over to his dominating seasons of football ahead. Jerry never thought he would play football for his school, but once a decision was given to him by the principal to either be punished for skipping class or to join the football team, he had no choice. So, Jerry chose to play for his school, which was just the beginning of his football life. 
His first season for the school went better than expected. He became the team's leading scorer, which helped to gain the attention of college scouts around the area. The university that Rice ultimately chose was Mississippi Valley State University. He played all four years at the university, attracting attention from the pro-scouts with his unique playing style and impressive statistics. Though the exact specifics of his college career are not known, it's been said that he caught 66 passes for 1,133 yards and 7 touchdowns in his sophomore year. He captured 301 catches for 4,693 yards and 50 touchdowns in the fourth year of his college career and set 18 Division I-AA records. 
Jerry Rice was declared for the 1985 NFL draft and was chosen 16th overall in the first round by the San Francisco 49ers. Jerry's season started off slow but only went up from there, and he finished off the season with a record of 49 catches for 927 yards, averaging 18.9 yards per catch. In his 1987 season, he won the Player of the Year award. He also added 1,078 receiving yards and an NFL record 22 touchdown receptions while only competing in 12 out of the 16 games that year. Rice led the league in multiple categories, which helped to carry his team to the 1989 Super Bowl. It was a close game, but Rice led San Francisco to a 20-16 victory over the Cincinnati Bengals. In that game, Jerry chalked up 11 passes for 215 yards and a touchdown, earning Rice Super Bowl MVP honors.  The following year, Jerry led his team to back to back Super Bowl victories, this time defeating the Denver Broncos by the largest Super Bowl margin ever: 55-10.
Jerry's next five seasons slowed down a bit, with him only racking up an average of 94.8 receptions, 1,382.2 yards, and 13 touchdowns. Although the past few seasons were on the slower side, Rice achieved his best year ever in 1995, with 122 receptions, 1848 yards, and 15 touchdowns, leading his team to compete in a third Super Bowl against the then-San Diego Chargers. The 49ers came out on top yet again with a score of 49-26. Rice caught 10 passes for 149 yards and 3 touchdowns, tying his own record for most touchdown receptions in a Super Bowl and becoming the first player ever to do it twice. He did not slow down the next year, leading the NFL with 108 catches for 1254 yards and 8 touchdowns. 
His three-year record stood at 342 catches for 4,601 yards and 36 touchdowns by the end of 1996. His 1998 year started with an injury to his anterior cruciate and medial collateral ligaments on the back of his left knee, but with his resiliency, he returned to play within a few months to record 82 catches for 1,157 yards and 9 touchdowns. His career started to gradually slow as his production fell dramatically in the next year, during which he failed to hit 1000 yards in a full season. In 2000, his time with the San Francisco 49ers was over, but with Jerry's skill set, other teams still wanted him. He signed a contract with the Oakland Raiders in the same year. 
For his three years at the Raiders, he averaged 79.3 receptions, 1073 yards, and 6 touchdowns. He also helped the team win a spot in Super Bowl 37, ultimately losing to the Buccaneers. He was traded to the Seattle Seahawks in 2003, only adding 25 receptions, 362 yards, and 3 touchdowns to his career. Jerry would not play the next two years, then finally in 2006, he signed a one-day deal with the San Francisco 49ers to permanently retire as a 49er in recognition of his valuable contribution to his long-time team.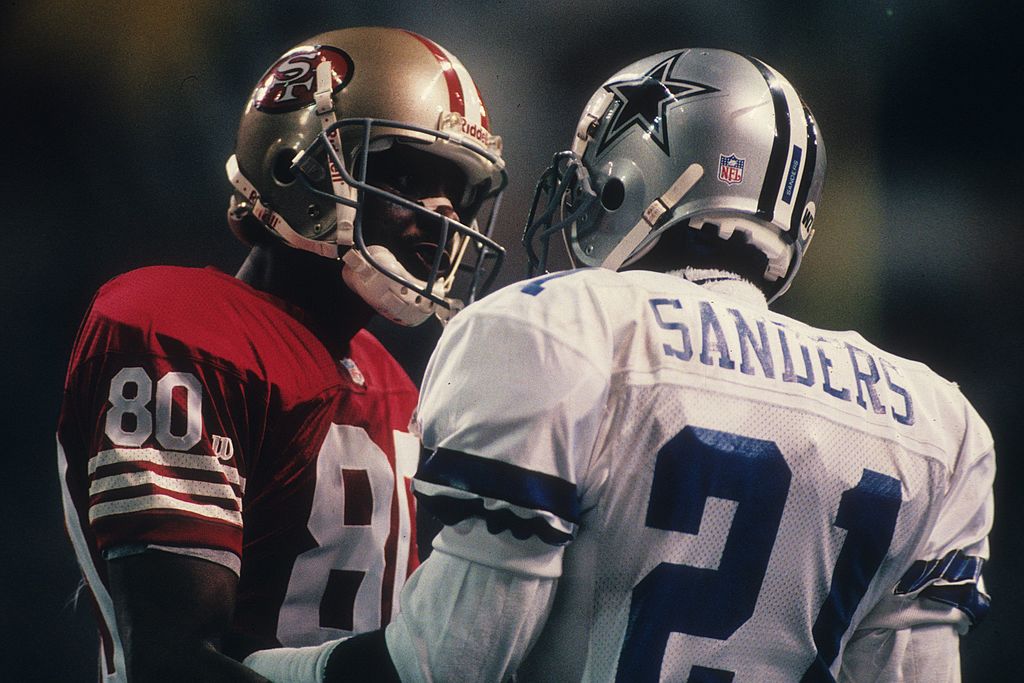 Leave a Comment
About the Writer
Justin Osterhouse, Sports Reporter
Justin Osterhouse is a sophomore at FHC, and is entering his first year as a Sports Reporter. Activities he enjoys in his free time are watching and playing...